About Us
Vietnam Fortune Restaurant offers the finest of Vietnamese cuisine right in Calgary! Choose from our Rice Vermicelli dishes including Lemon Grass Chicken and Grilled BBQ Pork, or if you like traditional Vietnamese Style Soups, we also offer Rice Noodle Soups including Sate Chicken and Seafood Vegetable!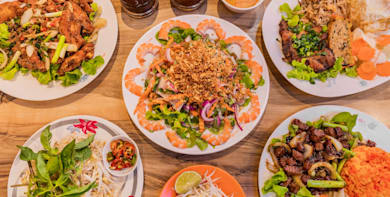 Reviews
Jules
"Great meal. Vermicelli bowls and salad rolls were on point! The s+p squid needed more flavour, although we really appreciated that they were hot and fresh!"
2022-01-26
Elisabeth
"would like more eco-friendly packaging"
2022-01-08
Jeff
"thank you so much for making dietary substitutions! my pregnant diabetic wife really appreciated it!"
2021-12-23
Gaelin
"always great! :) awesome gluten free options"
2021-12-09
Contact Us
Find Us
1443b Kensington Road Northwest, Calgary, AB, Canada, Calgary, T2N 3R1
Opening Hours
Wednesday
11:30 AM - 8:00 PM
Thursday
11:30 AM - 8:00 PM
Friday
11:30 AM - 8:00 PM
Saturday
11:30 AM - 8:00 PM
Please note, delivery times may vary.
We deliver to
T1Y, T2A, T2B, T2C, T2E, T2G, T2H, T2J, T2K, T2L, T2M, T2N, T2P, T2R, T2S, T2T, T2V, T2W, T3A, T3B, T3C, T3E, T3G, T3H, T3J, T3K, T3L